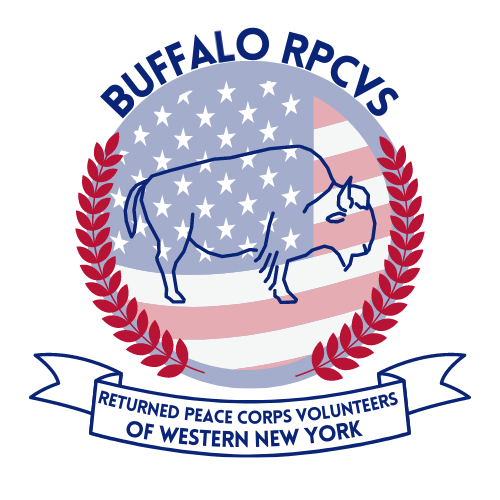 The Buffalo Returned Peace Corps Volunteer website makes every effort to keep the Western New York RPCV community updated with Welcome/Send-Off events and celebration, service, and social events. This website connects you to roughly 250,000 RPCVs around the world. If you are a member of the Buffalo RPCVs, we urge you to come to our events often and to stay in touch regularly.
If you are not yet a member, we extend a sincere welcome for you to join us!
If you have any questions or just want to get in touch,
please email our President, Alexandra (Andy) Smith, at the email address: buffalorpcv@yahoo.com
_________________________________________________________
Join us for our Annual Meeting!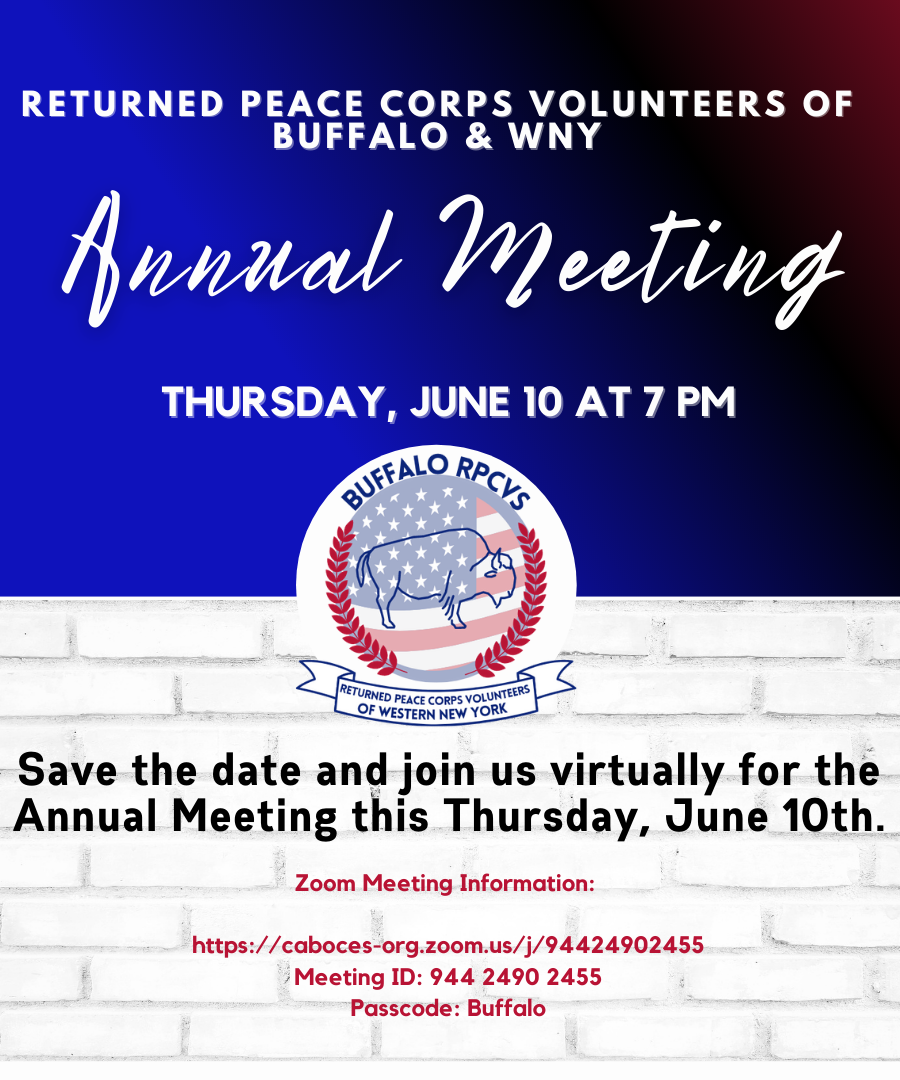 _________________________________________________________
Annual Meeting Information:
Please join the Buffalo RPCVs for their Annual Meeting of the membership on Thursday, June 10th at 7:00 PM, as an online Zoom session. In addition to the Annual Report by Andy Smith, which will recount our efforts; we will also offer the opportunity for participants to share a story about their Peace Corps experience.
Our By-Laws can be found here: https://www.buffalorpcv.org/cpages/legal-docs-reports
If interested in serving on the board as the chair and treasurer will be stepping down, please contact Andy via email at buffalorpcv@yahoo.com before Thursday.
Topic: Buffalo RPCV Annual Meeting
Time: Jun 10, 2021 07:00 PM Eastern Time (US and Canada)
Join Zoom Meeting
https://caboces-org.zoom.us/j/94424902455
Meeting ID: 944 2490 2455
Passcode: Buffalo
Check out the most recent newsletter
Stay up to date with the latest updates from our group and the broader Peace Corps community!
Become a member!
Join RPCVs of Buffalo & WNY to support Peace Corps community initiatives and projects. 
 
 
 
 
 

 

We are an affiliate of the National Peace Corps Association (NPCA).

NPCA is the nonprofit alumni network at the center of a vibrant community of over 220,000 people who share the Peace Corps experience. NPCA champions lifelong commitment to Peace Corps ideals by connecting, engaging and promoting its members and affiliate groups as they continue to make a difference in communities in the U.S. and abroad. NPCA is also dedicated to advocating for, contributing to, and supporting the betterment of the Peace Corps. Visit NPCA to learn more.