We welcome all RPCVs and their friends and families to attend the Thanksgiving Event at Peace House in Hamburg. We will be volunteering at Peace House to serve a Thanksgiving meal to the individuals and families residing there. We encourage those who plan on attending to bring a side dish or a dessert or a salad!
The meal begins at 2 PM but we encourage all those who will be attending to show up at 1 PM to help us set up.
Please RSVP by emailing RPCVofBuffaloWNY@gmail.com so we can get a full headcount for food purposes. See you there!
Event Details:
Date: Sunday, December 5th
Time: 1 PM Set Up / 2 PM Meal Time
Location: Peace House, 4263 St Francis Dr, Hamburg, NY 14075
Please bring a side dish, salad or dessert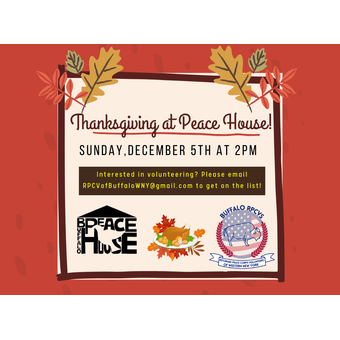 4263 St Francis Dr, Hamburg, NY 14075, USA